Webex Desk Hub is the device at the center of your work day, whether you work from the office, the home or both. Use it to make calls, join meetings, and share presentations from your laptop. And at the end of the day, your mobile phone is charged too.
| | |
| --- | --- |
| | Webex Desk Hub requires the Webex Desk Camera and a display screen to get the full supported benefits of the device. The Cisco Headset 730 and the headset charging stand are the recommended headset and headset charger for your device. |
Desk Hub is set up in one of two modes:
Personal mode—For people who have dedicated work spaces or who work from home and want their own device. You see your name in the top-left corner of your Desk Hub. You receive meeting notifications from your personal calendar.

For information on configuring your device for personal mode, see Set Up a Webex Board, Room or Desk Device as a Personal Device.

Shared mode—For people who share a workspace or huddle room. The name of your workspace displays in the top-left corner of your phone. You receive meeting notifications from the room calendar.
Your Desk Hub functions on one of two general types of call networks:
Webex calling—Cisco's cloud calling service.

Cisco UCM calling—Cisco's traditional IP service for businesses.
Feature availability is based on your call network so what you see on your Desk Hub varies from business to business. But the following features have been developed for Desk Hub:
Meeting notifications—Receive a meeting notification a few minutes before the start time.

Webex assistant—Use voice commands for common Webex tasks. Start by saying the wake-word "OK Webex..." and your command. To close Webex Assistant, say "Dismiss."

One Button to Push—Join your meetings with one button push.

Laptop and mobile device charging—Use the wireless charging pad to keep your mobile device charged. Connect your laptop and keep it charged also.

| | |
| --- | --- |
| | The iPhone 12 mini and iPhone 13 mini have their charging coils too low. While charging the iPhones, position them atleast 3 mm higher between the dock and the phone. |

Hot desking—Allows you to find a workspace that's best for you, and reserve it for your stay. This is for hybrid workers who often work at both the office and their home, and for anyone who needs short-term space.

Extension Mobility—Allows you to sign in to any Desk Hub and get your personal settings, such as Recents, Favorites, and Directory.

This feature is only available for UCM calling.
Webex Desk Hub ports and buttons
Familiarize yourself with the hardware features so you can use your Webex Desk Hub.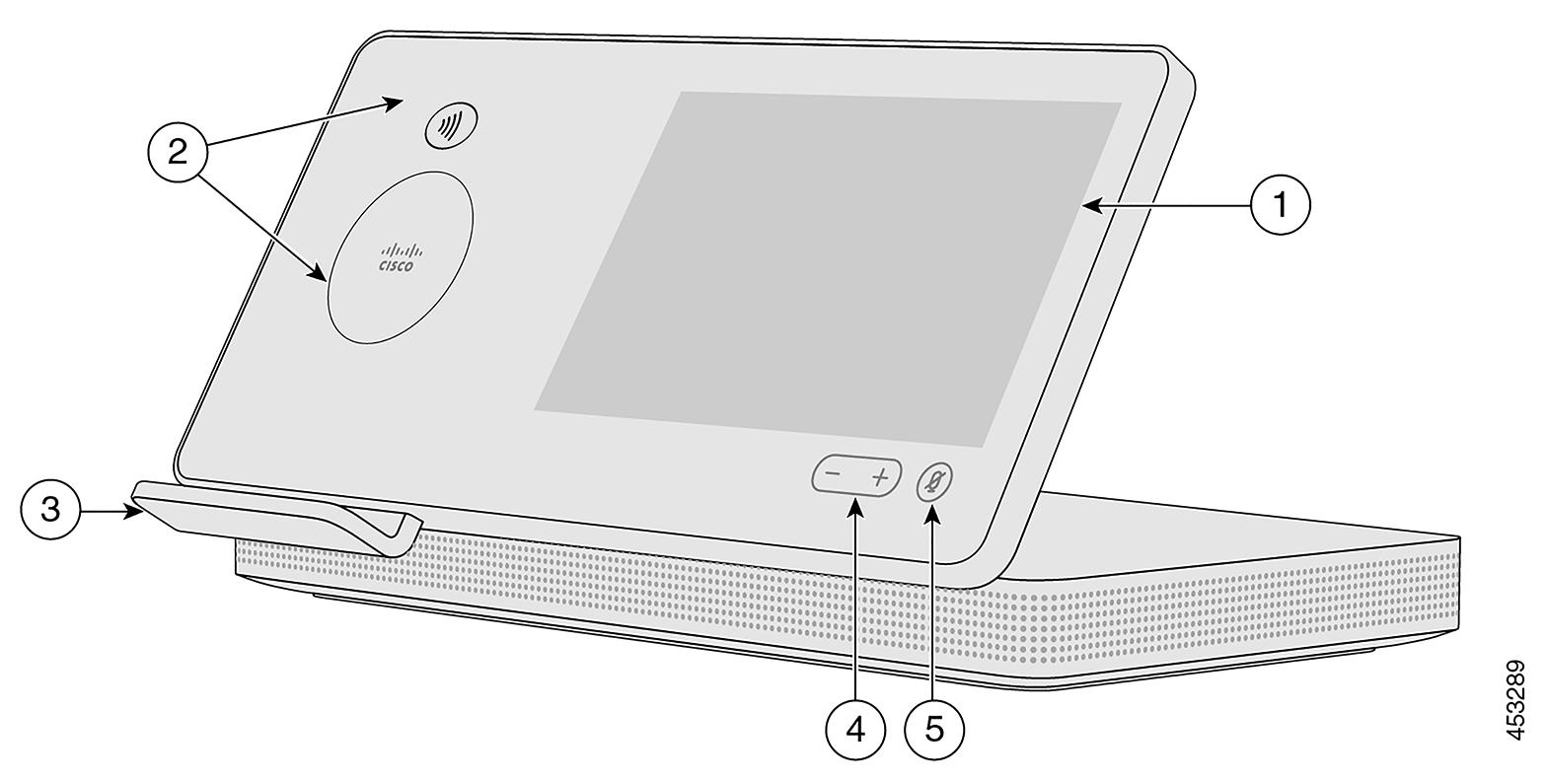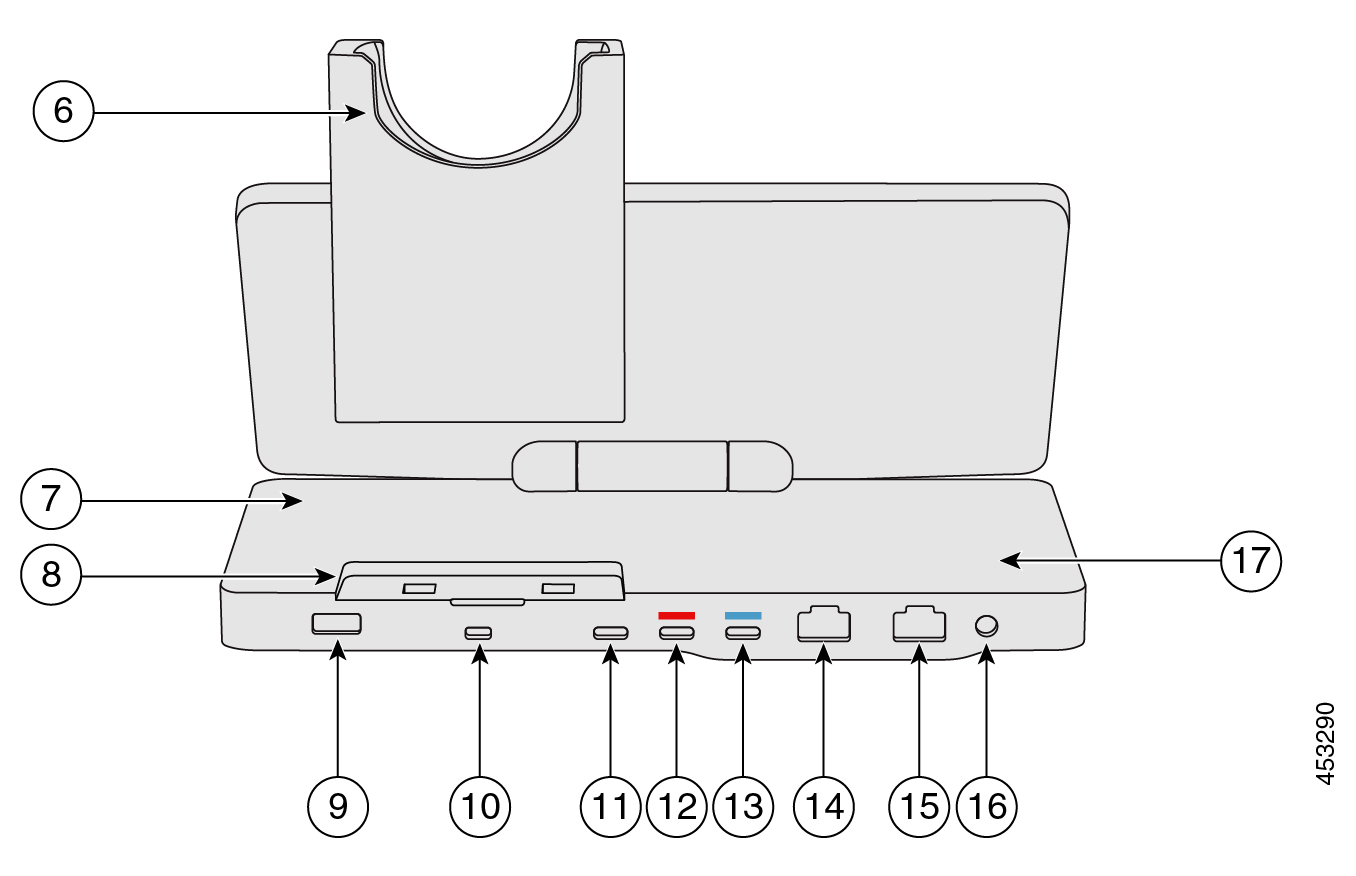 Table 1.

Webex Desk Hub hardware components

Component

Description

1. Touchscreen

Tap the standby screen to wake up the Desk Hub, or tap the onscreen buttons for calling, meeting, and settings.

2. Near Field Communication (NFC) and Wireless charging pad

NFC allows you to wirelessly sign in to your Webex Desk Hub when you have the Webex App open.

Wireless charging allows you to wirelessly charge your mobile device.

3. Mobile phone stand

Holds your mobile phone.

4. Volume buttons

Controls the speaker volume. Tap + or - to increase or decrease the call volume.

5. Mute button

Mutes and unmutes the Desk Hub microphone.

6. Headset dock

Put your Cisco Headset 730 on the dock to charge it.

This is an optional component.

7. Speaker

The audio output channel.

8. Headset dock socket

Remove the lid and slide the Cisco Headset Dock into this socket.

9. USB-A port

Connect your USB-A headset to this port or use it to charge your mobile phone.

10. Kensington lock slot

Used to lock your device to a stationary object with a Kensington lock.

11. USB-C port

Connect your Cisco Desk Camera 4K or USB-C headset to this port.

12. USB-C port

Connects your device to your external display screen.

13. USB-C port

Connects your device to your computer.

14. PC port

Connect your computer with an Ethernet cable and let Desk Hub share your network.

15. LAN port

Connects your Desk Hub to the network.

16. Power port

Connect the AC power adapter.

17. Power button

Push to turn on or shut off the Desk Hub.
Was this article helpful?