Get started with Control Hub
Welcome to Control Hub, a single dashboard to manage users, permissions, calling, meetings, messaging, and devices.
We recommend adding users by entering their email addresses, so that they can join Webex Meetings and use Webex App. Encourage them to use the services you provide, and to submit feedback. You can add more users at any time.
We recommend using the latest desktop version of Google Chrome, Microsoft Edge, or Mozilla Firefox to access Control Hub.* Other browsers may produce unexpected results.
| | |
| --- | --- |
| | Control Hub doesn't support Internet Explorer. |
| | |
| --- | --- |
| | Control Hub isn't designed for mobile devices. |
* Control Hub supports Microsoft Edge Version 79.0.309.71 (Official build) (64-bit) and later.
Get started
Use Control Hub to manage your users, services, and devices. After your organization is created, you receive an email to get started using the administrative functions in Control Hub.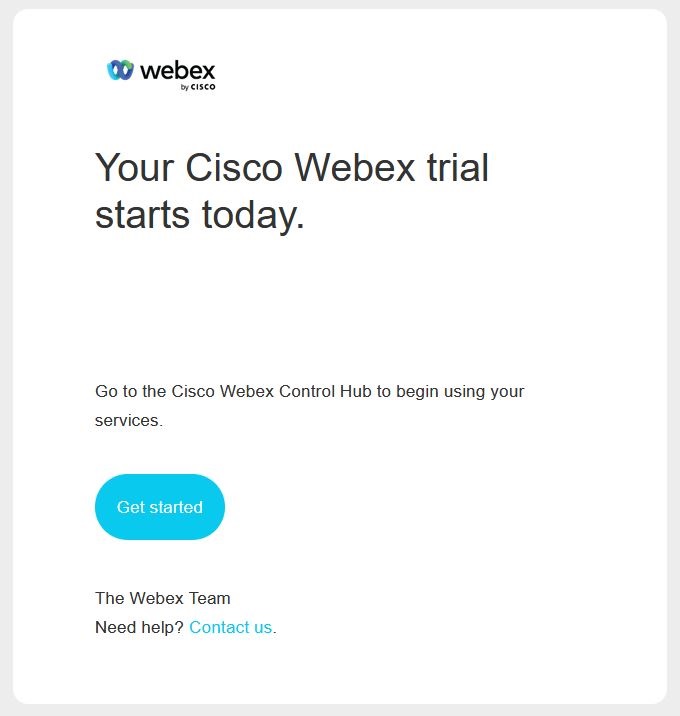 Whether you're starting a trial or a paid subscription, click Get Started to set up your admin account and access Control Hub. The email address used for activation is also used to sign in, where you'll be prompted to create your administrator password.
First-time wizard for trials
After you sign in, the setup wizard automatically starts if you're in a trial. After accepting the terms and services agreement, you can set up your Webex services (Meetings, Messaging, and Calling).
Check how Webex adoption is going, and make your environment more secure
After you set up your environment, you can check to see how the adoption of Webex is going. Control Hub can also guide you through making your environment more secure. See set up an organization in Control Hub.
Was this article helpful?