End-to-end encryption with identity verification for Webex meetings
Zero-Trust Security from Webex provides end-to-end encryption and strong identity verification in your scheduled and personal room meetings.
You must enable video devices at both the site and user levels for end-to-end encryption to work.
Webex for Government supports end-to-end encrypted meetings in Webex App and Webex Meetings.
Zero-Trust Security for Webex supports the following in end-to-end encrypted meetings:
Standards-based, formally-verified cryptography

End-to-end-verified identity (E2EI)

Webex Room devices (Room Series, Desk Series, and Board)

End-to-end encryption (E2EE) in Personal Room meetings

A security icon which lets all meeting participants know at a glance that their meeting is secure, as well as when end-to-end encryption is enabled for the meeting.

Verbal verification of meeting attendees using a new Security Verification Code

Up to 200 participants

Participants joining from a device must be one of the first 25 participants

Local recording

Save meeting chat and notes locally

For the Webex App app, a maximum of 20 participants can join an end-to-end encrypted meeting.

In the Webex App app, you can join the meeting using your computer audio (not Call me/Call in).
Zero-Trust Security does not support the following in meetings:
Older Webex devices, such as the SX, DX, and MX series

Features provided by Cisco cloud services that require access to decrypted media, including:

Network-Based Recording (NBR)

Transcoding media

In-meeting Webex Assistant

Automated closed captioning

Transcription

Saving session data, transcripts, meeting notes, etc. to the cloud (local recording and saving is supported)

Public Switched Telephone Network (PSTN)

SIP interoperability

Embedded apps
For more information on end-to-end encryption, see What does end-to-end encryption do?
This section is for customers with Full-Featured Meetings.
To join an E2EE meeting from your Webex Board, Room, or Desk device, tap Join Webex and enter the meeting number that is listed in the Webex Meetings invite. Then, tap Join to join the meeting.
In the meeting, you can check whether the meeting is end-to-end encrypted by looking at the shield icon in the header.
– The meeting is end-to-end encrypted.

– The connection between your Webex desktop app and the Webex server is secure, but the meeting is not end-to-end encrypted.
A security code is provided to allow participants to verify that their connection is secure.
Tap the

icon to see the security code and other security information for the meeting. The security code changes each time a participant enters the meeting.
All the meeting participants should see the same security code. If one person sees a different security code, their connection is not secure.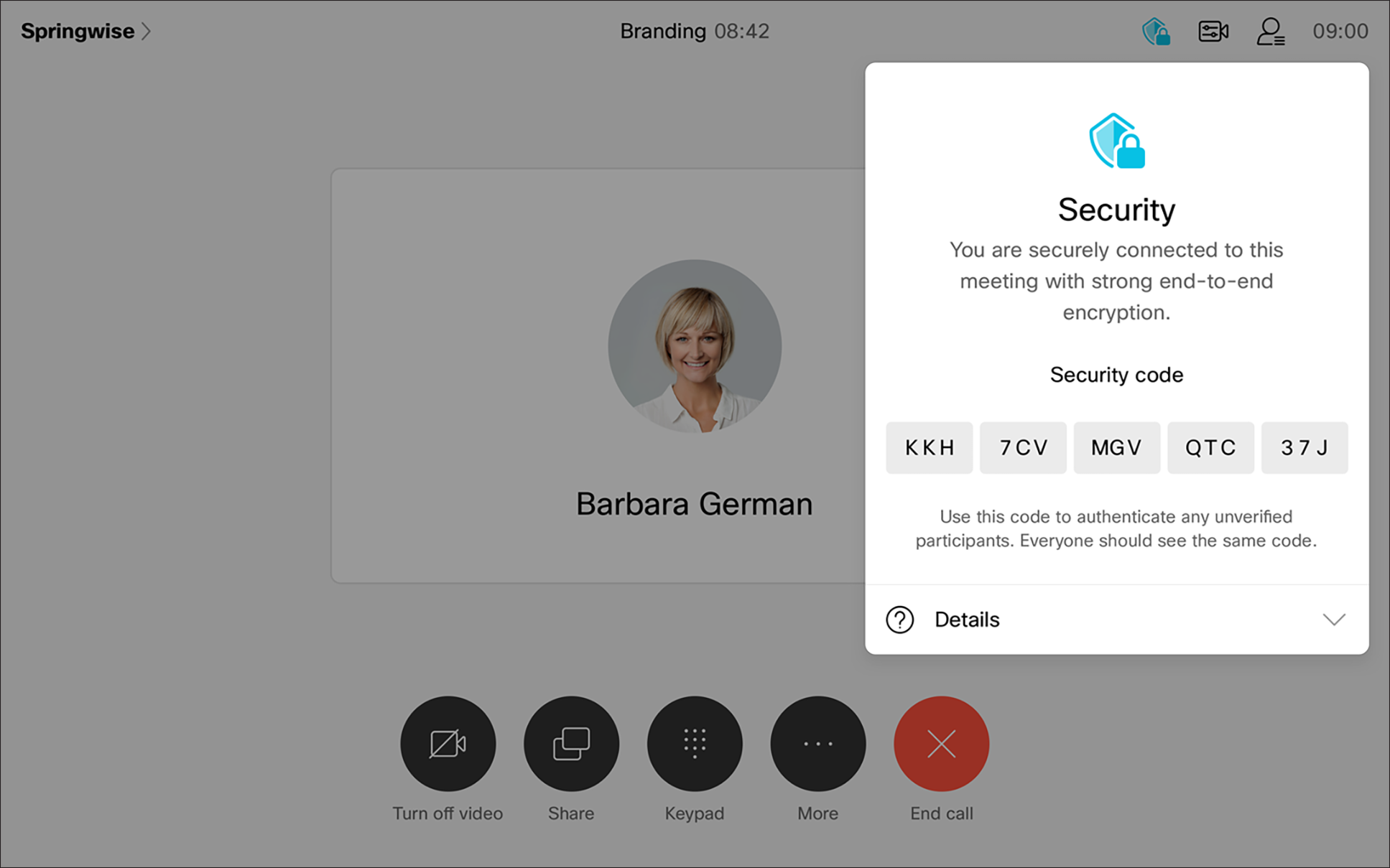 In the participants list, you can see information about the authentication status of each participant: verified or unverified.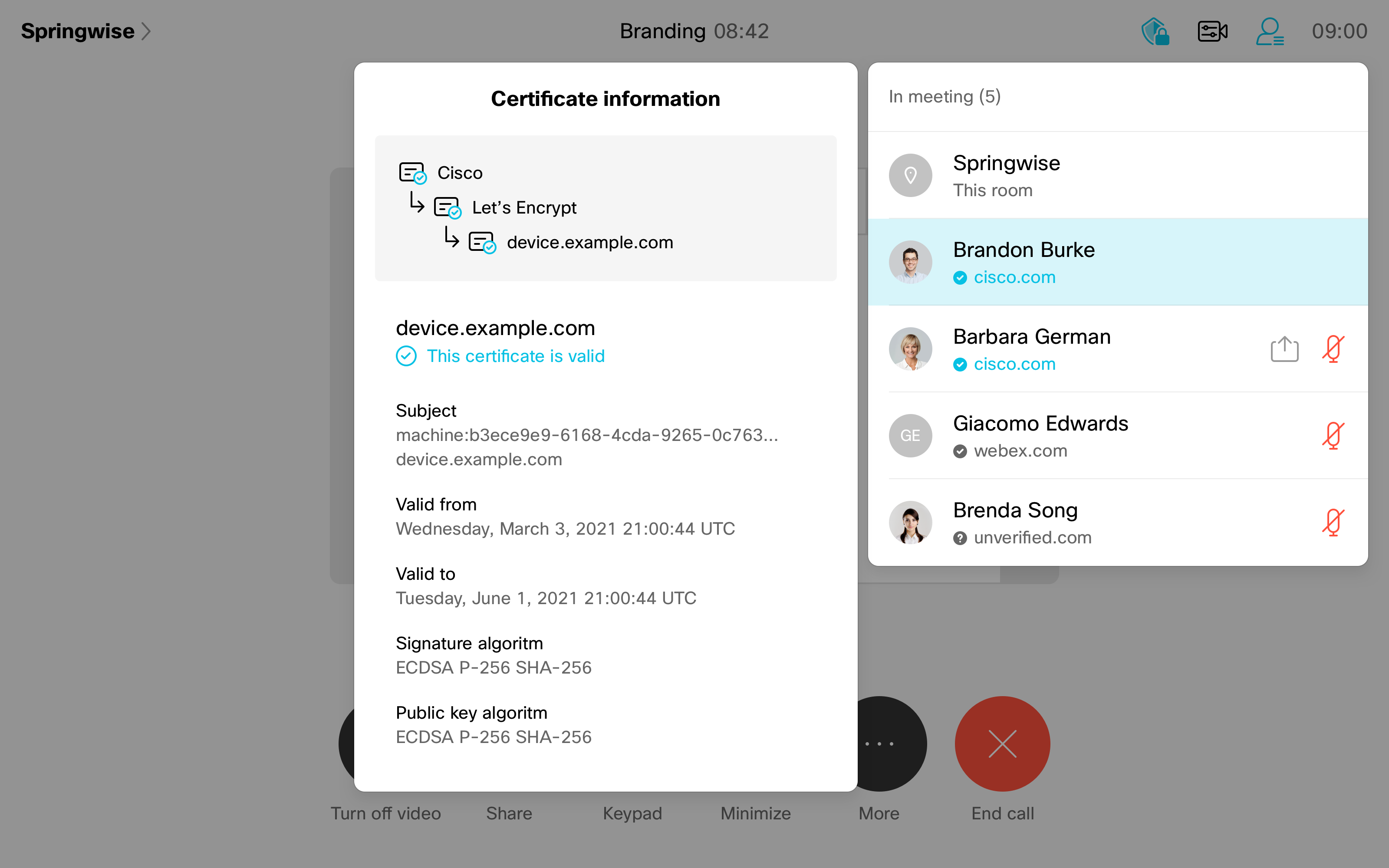 – Participant's identity has been verified externally by a Webex Partner Certificate Authority (CA). This requires configuring an external certificate on your personal device.

– Participant's identity has been verified internally by Webex CA.

– Participant's identity is unverified.
More detailed information about the certificate provider is available by tapping a participant's name and selecting Show Certificate.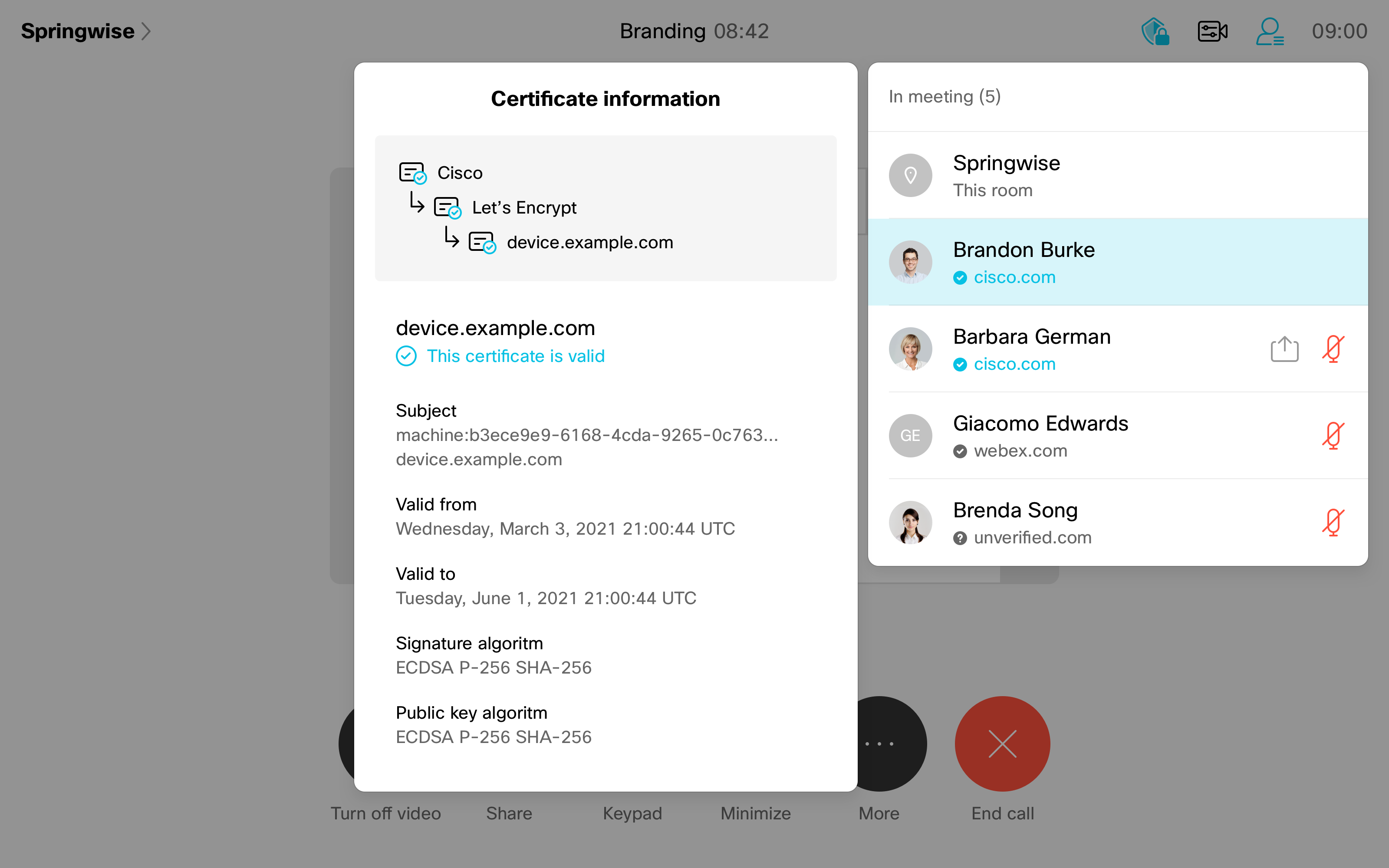 Known limitations
Transcoding, Automatic Closed Captioning, Transcription, PSTN, and other cloud-based services that require the cloud to access the media are not available at this time, as they are not supported by the Zero-Trust Security model for End-to-End Encryption v2 (E2EEv2).
A participant joining from a Webex device must be one of the first 25 participants of any kind in the meeting, or their connection will require transcoding. As this is not supported, they will not be admitted to the meeting.
The maximum number of participants in an E2EEv2 meeting is 200.
SIP video or telephone devices cannot join E2EEv2 meetings, as E2EEv2 is not available in the SIP protocol.
Was this article helpful?