Update your Webex Meetings desktop app to Webex App
Update to Webex App to access the latest meetings features. All your meetings and settings move over automatically. Then, use Webex App to meet whenever you need to. It's simple to join or start a meeting right away or schedule a meeting for later.
When you see the Update now button in your Meetings desktop app, you're ready to update to Webex App.
You can update when your administrator has made the update available to you and you're using version 41.10 and later. To find out which version of the desktop app that you're using, select App setting

> About.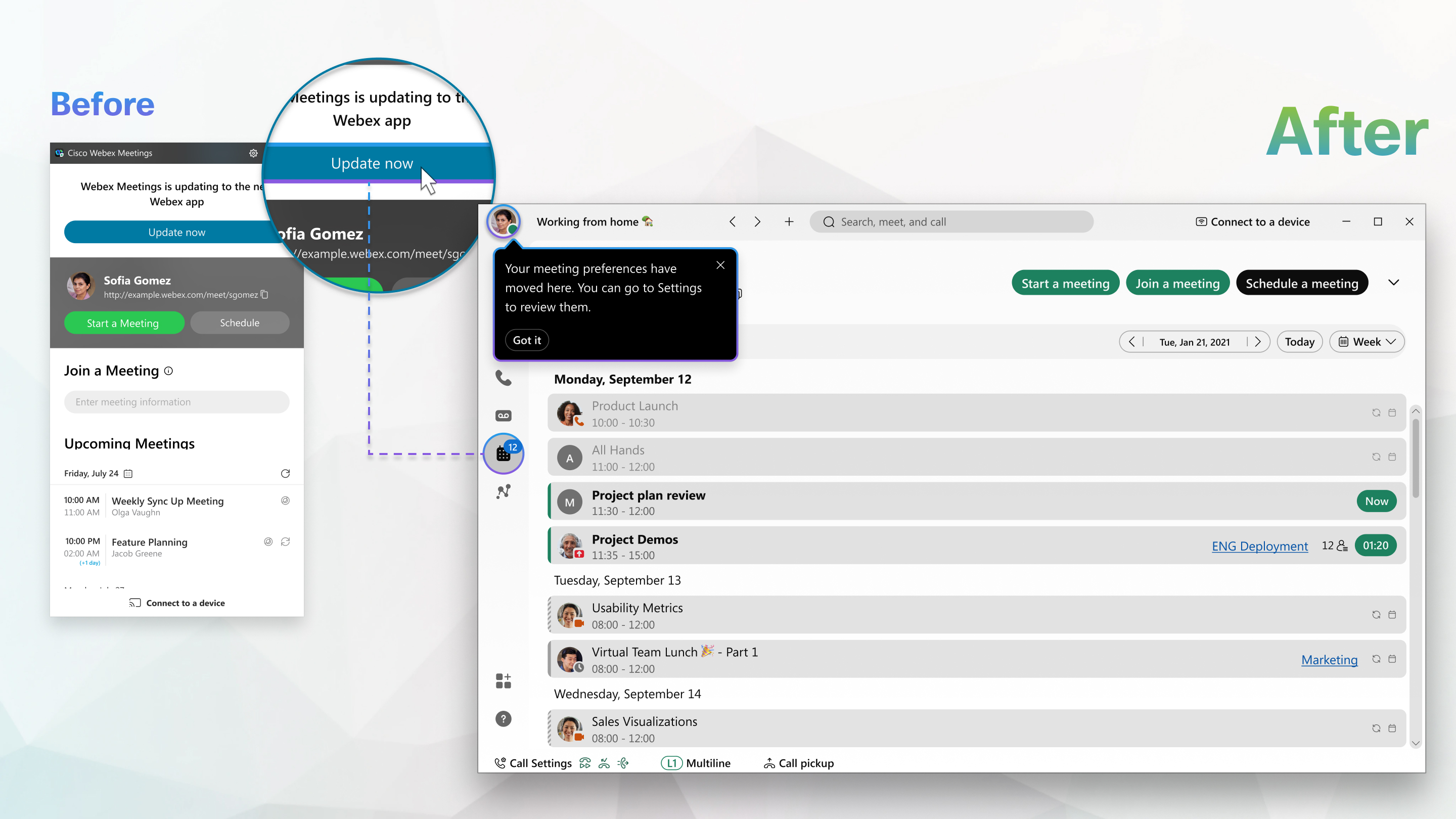 After you update, the Meetings desktop app is removed but we'll show you where to find all your meetings, recordings, and settings in Webex App.
Joining a Webex Training session isn't supported in Webex App so continue to use Webex Training.
1

Click Update now in your Meetings desktop app.

After the update finishes, you'll see your upcoming meetings. They're listed in the Webex App Meetings calendar.

Look around to get used to the app's interface and watch the video, Webex App Meetings, Messaging, and Calling. It shows the features and functionality of the Webex App, starting with setting general preferences and then moving through meetings, messaging, and calling.

2

Your meeting preferences all moved over.




To access the settings at any time, click your profile picture and go to Settings (Windows) or Preferences (Mac).

You'll find the meeting settings under Audio, Video, Notifications, and Join options.

3

When it's time for a meeting to start, join a meeting.

4

When you're ready, schedule a meeting from the Meetings calendar or start a Personal Room meeting.
Was this article helpful?