Administration guide for Webex Meetings Virtual Desktop software
Read about the Webex Meetings VDI client, the infrastructure requirements, and how to install the software.
Virtual desktop infrastructure (VDI) technology lets you deploy and manage users' desktops in an on-premises or cloud data center. Using thin clients, your users connect to their hosted virtual desktops in the data center. A thin client can be a traditional PC, or a thin-client device. This centralized approach can help to lower costs, and to improve operations and security.
The Cisco Webex Meetings application provides an enhanced experience in VDI environments. If it must travel through the data center, the additional bandwidth required for audio and video can cause a bottleneck. The application improves performance by routing all audio and video streams directly between the thin client and Webex Meetings cloud.
The Webex Meetings Virtual Desktop Software provides the same architecture components as a video device.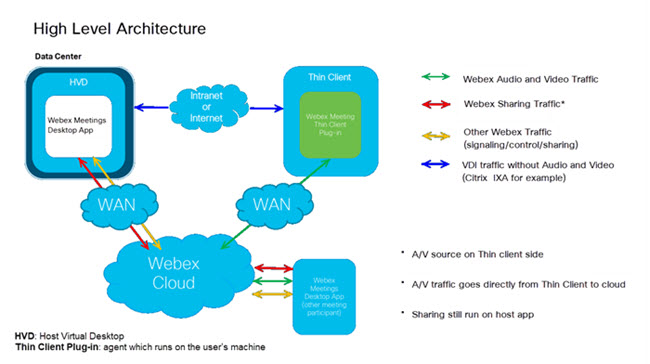 Was this article helpful?