The Cisco Desk Camera 4K is a USB web camera for video conferencing, video streaming, and video recording. The camera provides up to 4K Ultra HD video and high-definition audio.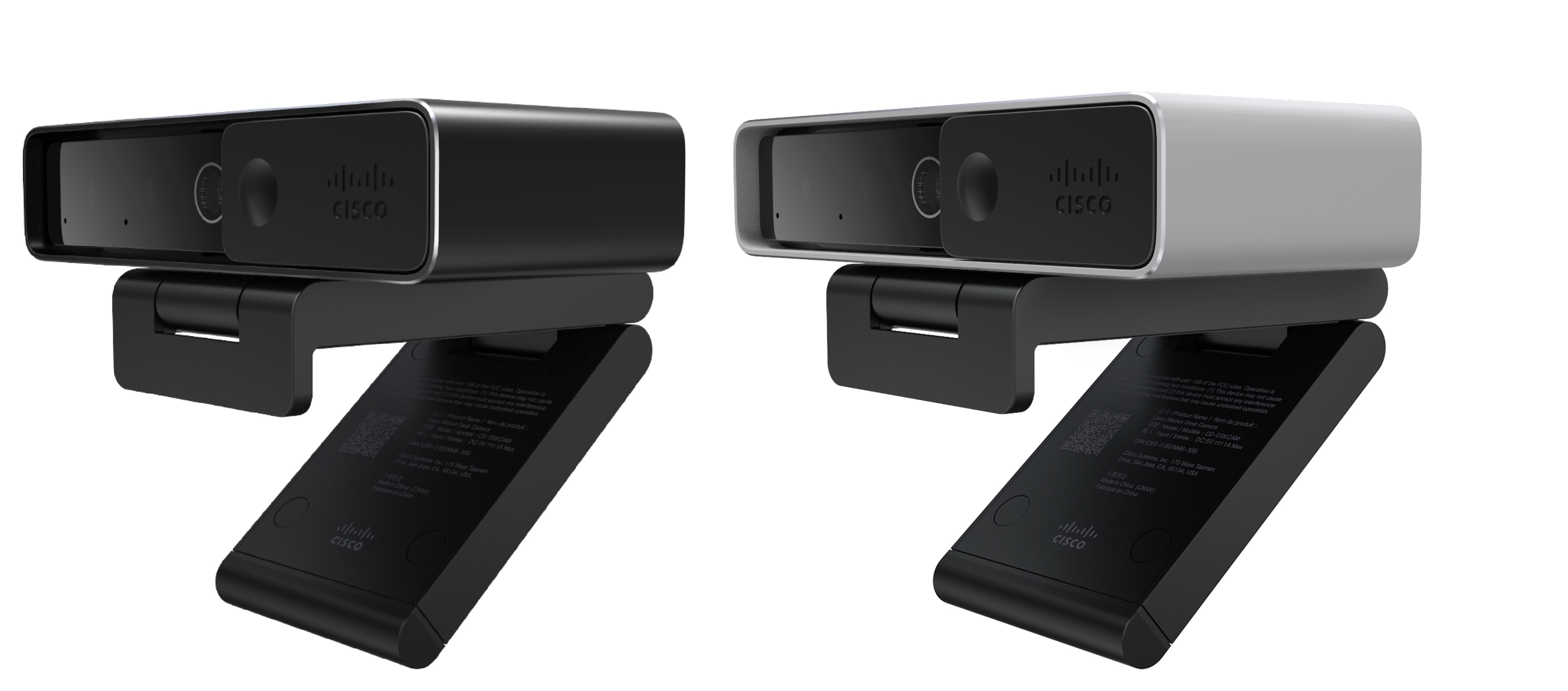 With multiple options for resolution and frame rate, the camera meets the use cases with Webex App, Webex Meetings, Cisco Jabber, and all popular third-party video conferencing and video streaming apps. The autofocus, face detection, and 10x digital zoom enhance your video experience for meeting and video streaming.
The camera has a privacy shutter. You can use it to turn off the video stream and block the camera lens when the device isn't in use.
The camera has two Omni Directional Microphones with noise-canceling features, providing audio input for calls, meetings, and recordings.
The camera supports Windows Hello for secure login to your system.
The adjustable clip with a tripod screw thread offers mounting flexibility on a laptop, an external display, a tripod, or a desk stand in various open office spaces, huddle rooms, and home offices. The two USB cables shipped with the camera allow easy connection to computers or devices with fully functional USB-A or USB-C ports.
The Cisco Desk Camera app works with the camera and allows you to record videos, take snapshots, customize the camera settings, and upgrade the firmware.
For more product information, see https://www.cisco.com/c/en/us/products/collaboration-endpoints/webex-desk-camera/index.html?dtid=osscdc000283&carousel=1.
What's in the box
The following items are shipped within the box. If anything is missing, contact your retailer.
Cisco Desk Camera 4K x 1

USB 3.0 C-C cable x 1

USB 3.0 C-A cable x 1

Pointer Card x 1
Use this information to familiarize yourself with the camera before you use it.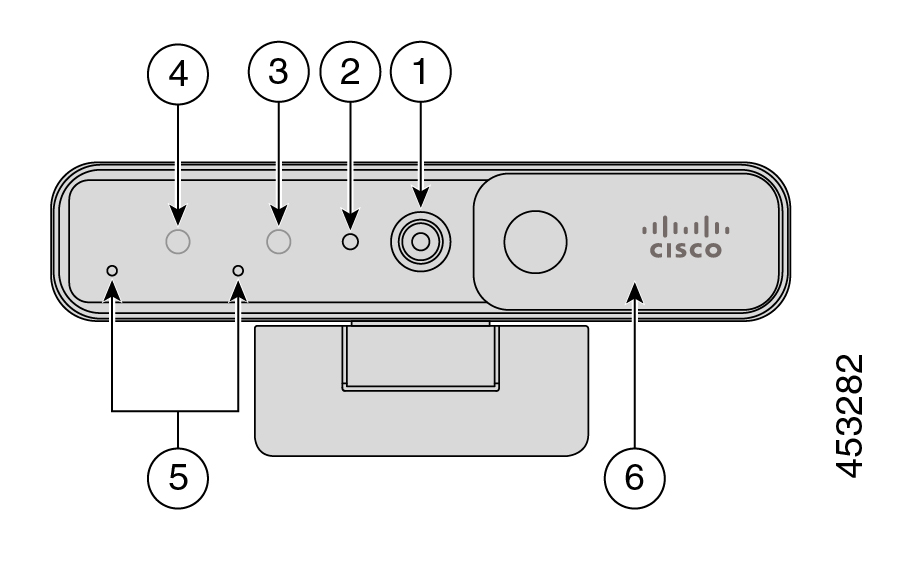 Table 1.

Hardware Components on the Front

Component

Description

1. RGB camera

Supports video stream and static snapshots.

2. LED indicator

Indicates the camera status:

Solid green for 1.5 seconds: camera is booting.

Solid green: RGB camera is in use.

Off: RGB camera is in standby mode or the shutter is closed.

3. IR camera

Supports Windows Hello via the IR sensor.

4. IR LED

Indicates the IR camera status:

Flash red: The IR camera is in use by Windows Hello.

Off: The IR camera is not in sue.

5. Microphones

The audio input channel of the camera.

6. Shutter

Turns the video stream on or off and blocks the camera lens when closed to protect privacy.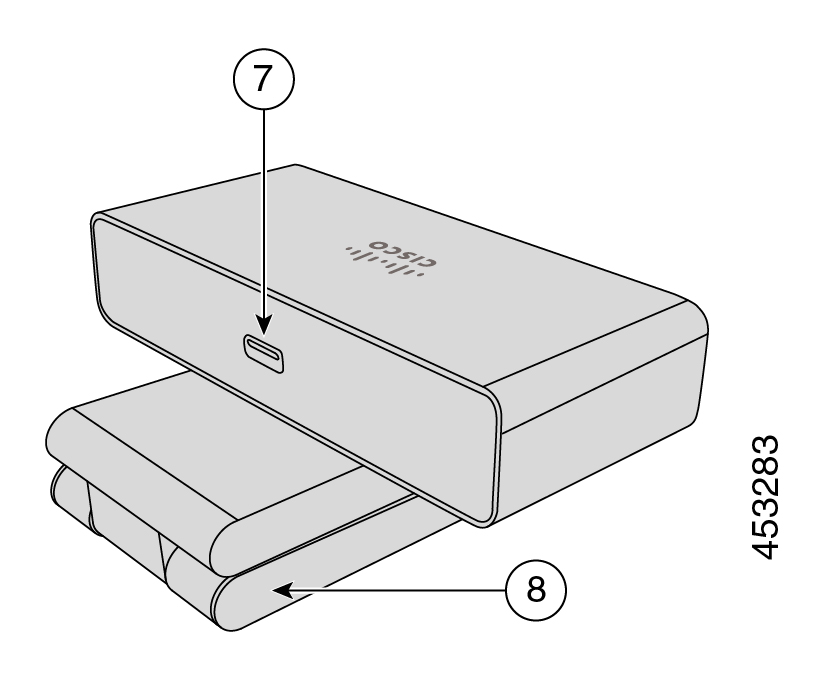 Table 2.

Hardware Components at the Back

| Component | Description |
| --- | --- |
| 7. USB-C port | The USB cable plugs into this port to connect the camera to a computer. |
| 8. Camera base and clip | Supports multiple mounting options on flat surfaces or on top of displays. The adjustable hinge provides flexible angles. |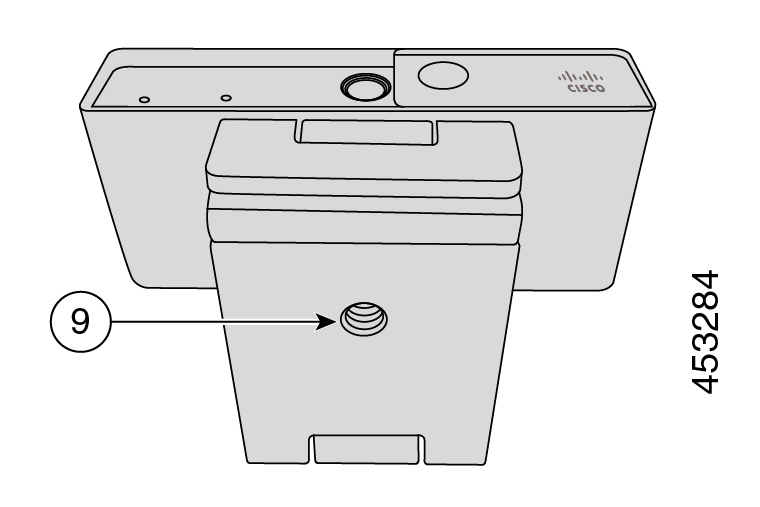 Table 3.

Hardware Component at Bottom

| Component | Description |
| --- | --- |
| 9. Tripod screw thread | Use the 1/4"-20 screw thread to mount the camera to a tripod. |
Follow the workflow to get your camera ready for use.
Table 4.

Camera setup workflow

Step

Purpose

Connect the camera to your computer so that the video conferencing or streaming apps can use the camera.

Install the camera app to update the firmware, customize configurations, shoot videos, and take snapshots.

For more information about what you can do with the camera app, see Camera App.

We continue delivering new features and enhancements with firmware iterations. Keep your camera up to date to get the latest features.

Configure Webex App or Webex Meetings to use your Cisco Desk Camera.

You can also change the camera settings or upgrade the firmware from Webex App.
See the following sections for more help information:
To look for more documentation about your camera, go to Help Center.

To look for technical support, go to Cisco technical support.

To view the hardware warranty terms, go to Cisco one-year limited hardware warranty terms.
Go to the Desk Camera Help home page to get more help content about your camera. If you don't find the topic of your interest there, try to search for it and use the filters on the left to narrow down the results, if necessary.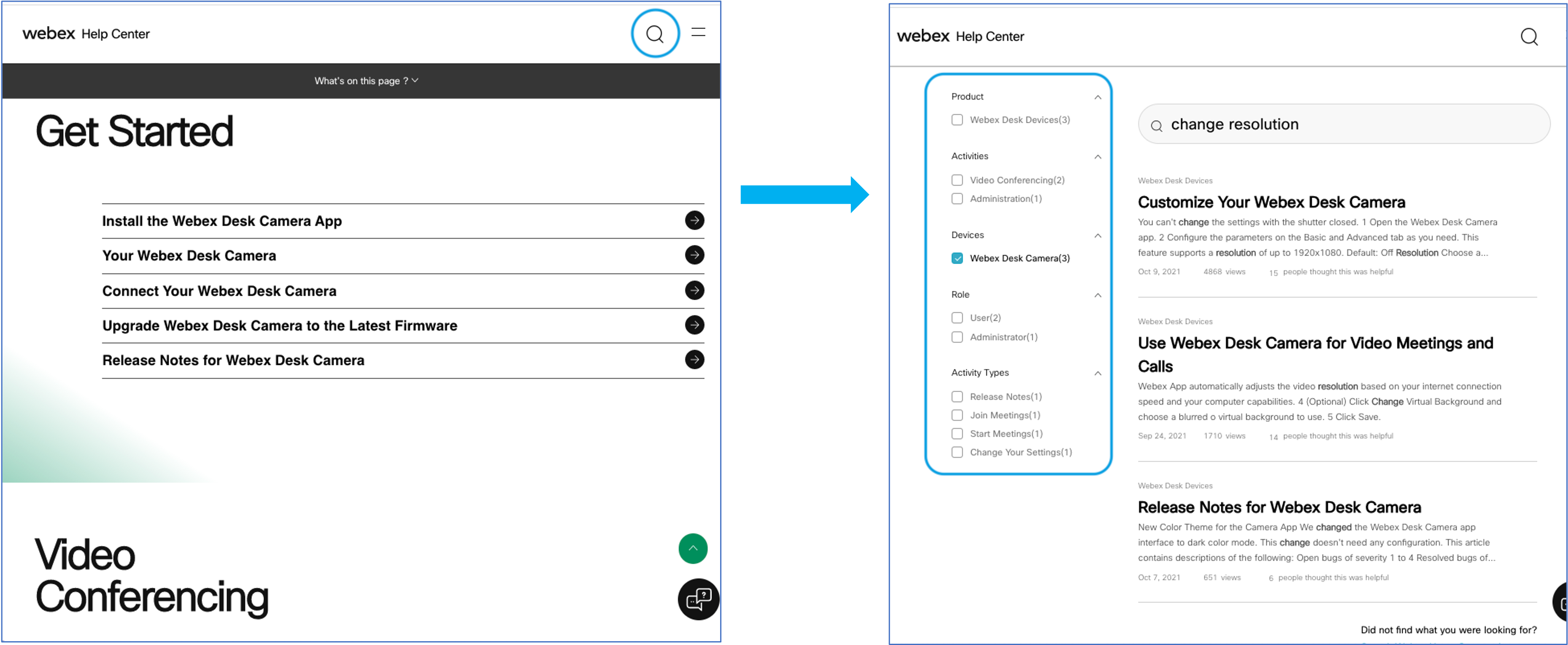 Cisco provides around-the-clock technical support services, both online and over the phone to all customers, partners, resellers, and distributors who hold valid Cisco service contracts.
You should have your Cisco.com User ID, Contract, and Serial numbers ready when you contact Cisco Support to prevent any delays with your support request.
In addition, support staff need the following information:
Serial number—Every device has a serial number on the surface of the clip.

Time and date issue occurred—Support staff use device logs or cloud metrics to troubleshoot issues. It is helpful to have the approximate local time and date.

Device Logs—Support staff may require the device logs to identify the root cause of your issue.

A brief description—Include any actions prior to the incident.
Most firmware issues can be resolved by support staff without a Return Material Authorization (RMA). It is best to use the RMA process for hardware issues.
You can find a list of Cisco worldwide support centers at https://www.cisco.com/c/en/us/support/web/tsd-cisco-worldwide-contacts.html.
Special terms apply to your hardware warranty and services that you can use during the warranty period.
Your formal Warranty Statement, including the warranties and license agreements applicable to Cisco software, is available at Product Warranties.
Was this article helpful?