Take a look at what's happening with Webex App. Here's your first stop to see what we're releasing each month.
January 10, 2023
The following app versions correspond to today's releases. See Webex App | Release Notes to get information about the issues resolved with these releases. We recently submitted the mobile apps to the app stores for review, and you'll be able to download them after they're approved and posted.
Windows—43.1.0.24716

Mac—43.1.0.24716

iPhone and iPad—43.1

Android—43.1
We're sharing details about our planned releases, but keep in mind that we might need to make changes to release dates and the features themselves.
Coming in February
Application
Improvements for Webex for Government sign-in—Mac
We've made it easier for you to sign into Webex for Government. Your email address is prepopulated on the Webex App sign-in screen, when your device is managed through a Mobile Device Management provider.
Preferences vertical navigation—Mac
Preferences has a refreshed design that's easier to navigate. The horizontal tab view is replaced with a vertical navigation sidebar, which is the standard for Mac as of MacOS 13.1 (Ventura).
Messaging
Discover public spaces—Windows, Mac, Android, iPhone and iPad
We've made it easier to find and join public spaces. You'll see a new public filter in your list of spaces, which shows the public spaces you've joined. You can also explore unjoined public spaces with just one click.
Quietly leave a space—Windows, Mac, Android, iPhone and iPad
We know how much you value your privacy and anonymity. Now, when you leave a space, this action won't be visible to other space members, apart from moderators in moderated spaces.
Calling
The following features apply to Webex Calling, and Calling hosted by a Service Provider
Enhance mobile phone calls with full collaboration capability—iPhone and Android
During a mobile phone call, you can seamlessly move the call to a Webex meeting without ending the call. You can use this feature with Webex Go or a mobile network operator (MNO) that has call signaling using Cisco call control for your mobile phone calls.
| | |
| --- | --- |
| | This feature isn't supported for Webex for Government. |
The following features apply to Unified CM
Whisper coaching for Contact Center—VDI
When you're set up as a call center agent, your supervisor can listen in on your calls and discreetly provide you with advice during the calls.
The following features apply to Webex Calling
Webex Calling supports site survivability—Windows and Mac
If a site in your company loses internet connectivity and you're at that site, you can still make and receive calls, both internally in your company and externally to customers. This feature requires a survivability gateway, that your administrator must configure.
Send a text message—iPhone, iPad, and Android
If you need to send a text to somebody, you can write your message in the app and send it to their mobile number. You can also receive text messages in the app.
This feature is currently only available in the US and Canada for Webex Calling with Cisco Calling plans.
| | |
| --- | --- |
| | This feature isn't supported for Webex for Government. |
Meetings
Schedule recurring meetings—Windows and Mac
You can now create a meeting series that repeats in daily, weekly, or monthly increments. Meeting organizers can edit specific instances to include additional people, or update meeting agendas. Meeting invitees can choose to accept or decline a single instance of the recurring meeting, or the entire meeting series.
Prevent participants from starting their video during a meeting—Windows, Mac, iPhone, iPad, and Android
As a meeting host or cohost, if you don't want anyone in the meeting to be on video, prevent participants from starting their video. When you choose this option, no one in the meeting, including the host and cohost, can turn on their video. If anyone already started their video, their video stops.
| | |
| --- | --- |
| | If a Webex Meetings host prevents participants from starting their video, any participants who join the full-featured meeting from Webex App will still be able to start their video. This issue will be fixed on February 17. |
Raise hand emoji uses your preferred skin tone—iPhone, iPad, and Android
When you raise your hand in a meeting, the raise hand emoji now uses the reaction skin tone you chose.
Share video from your mobile device's rear camera—iPhone, iPad, and Android
During a meeting, share video from the built-in rear camera on your mobile device. Zoom in and out to focus on what you want participants to see.
Play a notification sound when someone's waiting in the lobby—Windows, Mac, and Linux
If you lock your meeting, sometimes it's difficult to notice when someone's waiting in the lobby to join.
Hosts and cohosts can now choose to have Webex App play a sound on their computer when someone enters the lobby.
You only hear the sound when you're the host or cohost. The sound only plays once every 10 seconds, regardless of how many users have entered the lobby.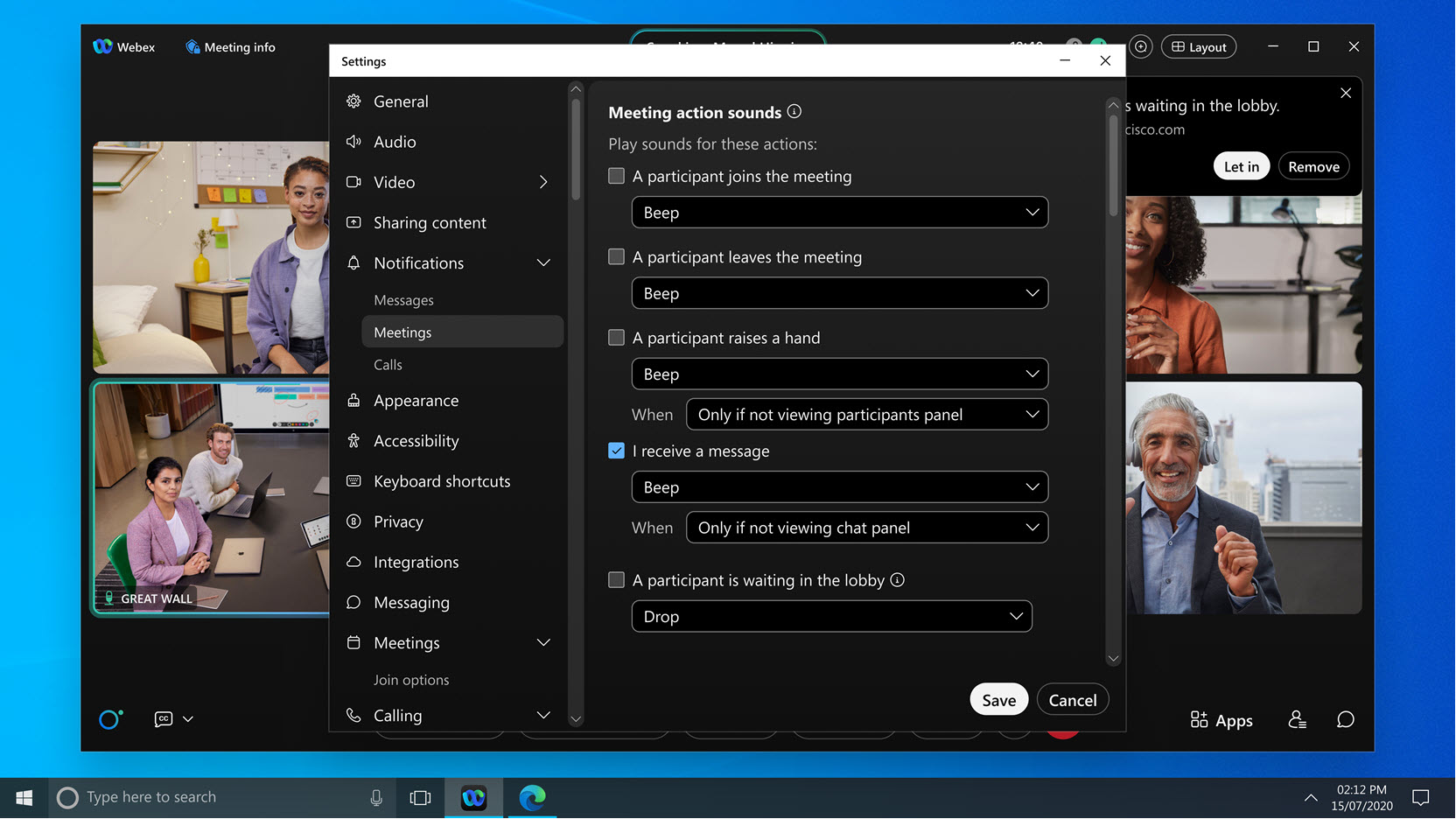 Sync your stage now syncs the video proportion of the stage—Windows, Mac, iPhone, iPad, and Android
During a meeting, if you resize your stage to show more of the shared content or participant video while syncing to everyone, you can now update your stage, so everyone sees your changes. This ensures that everyone in the meeting sees the exact same stage as you intend.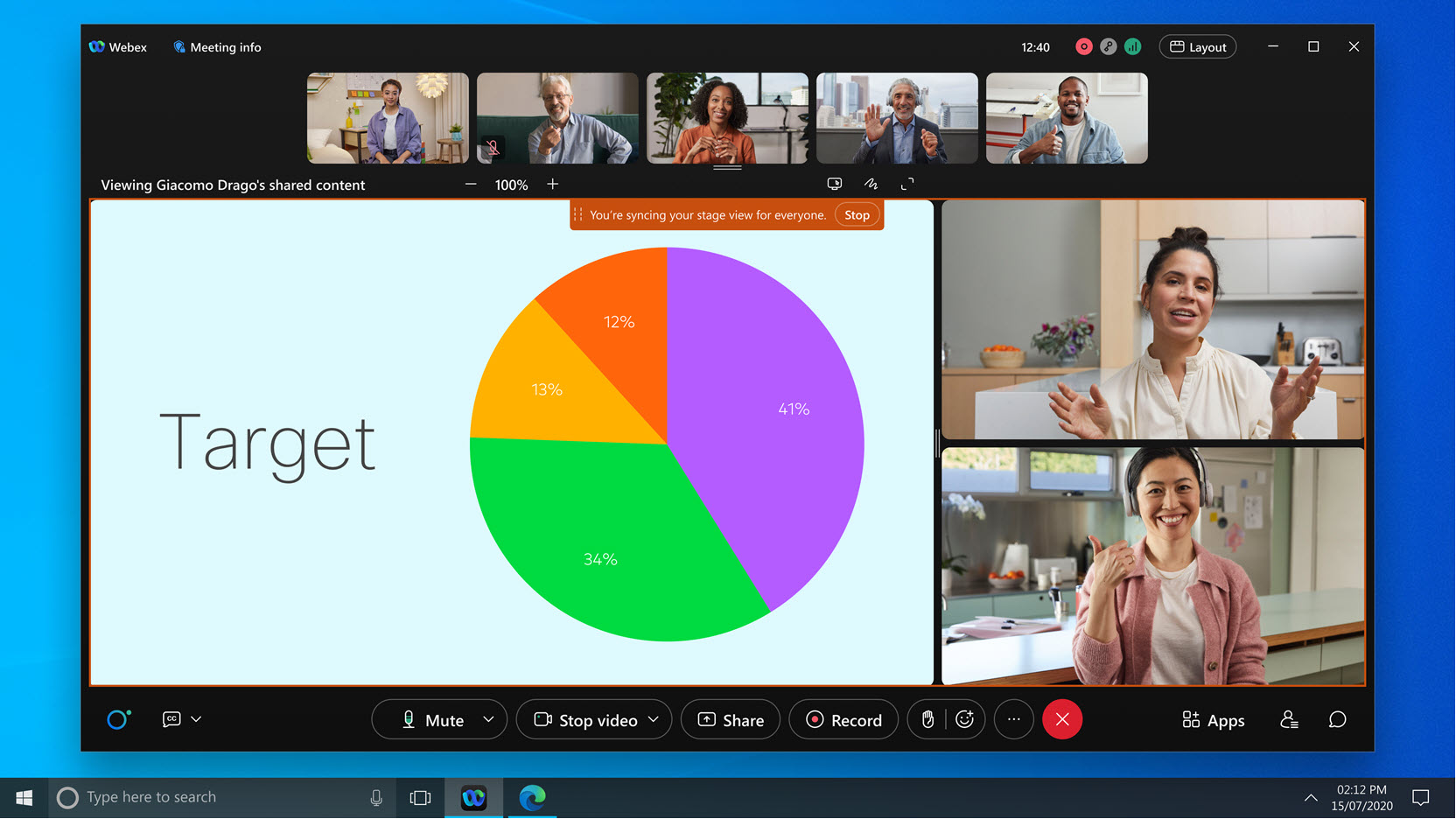 Share application windows directly from your Windows taskbar—Windows
If you use Windows 11, there's a new way to share content during a call or meeting. Hover over any open app on your taskbar and you see a new button that allows you to share the app window.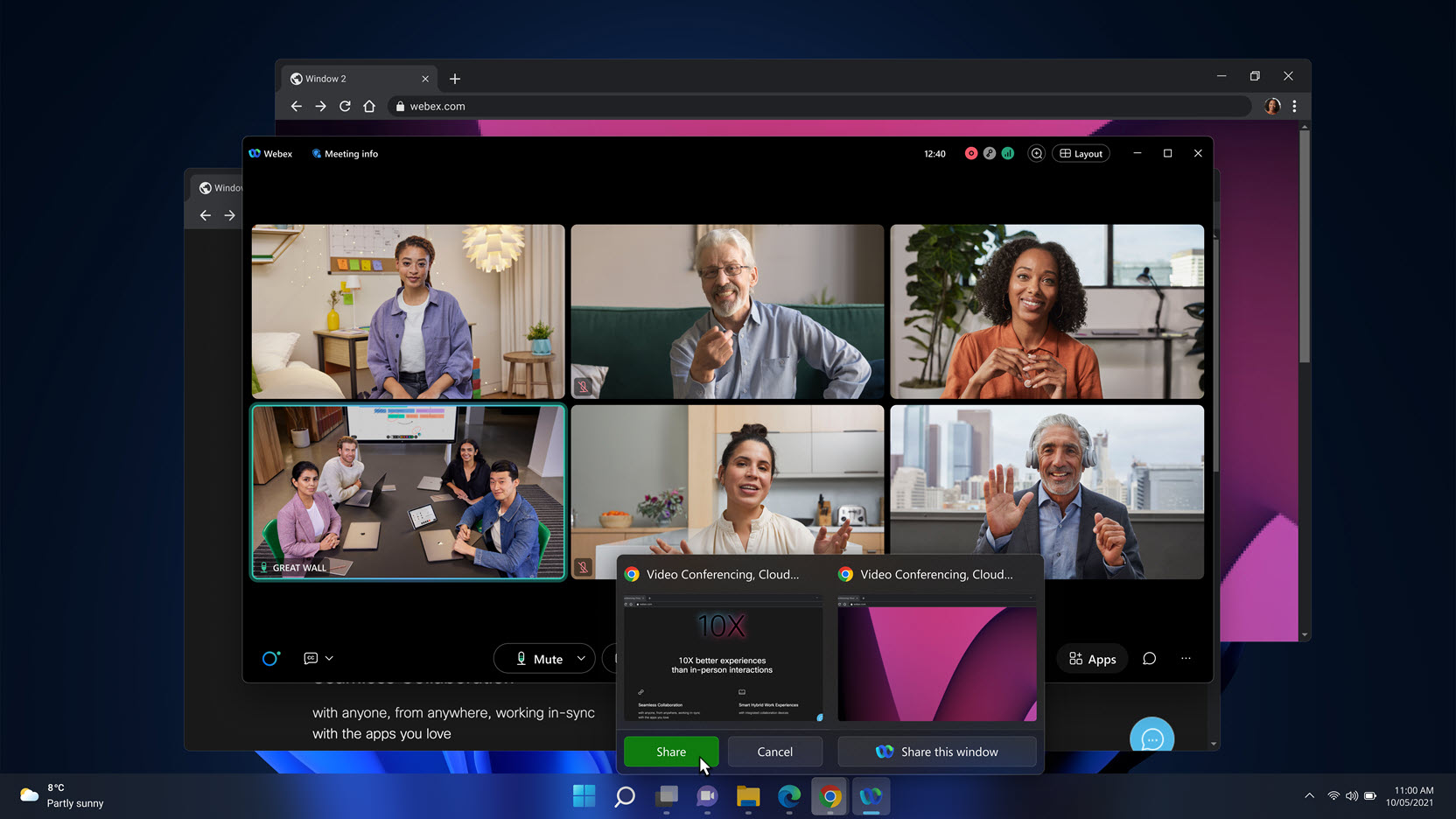 Failed call ins now get an option for an automatic callback—iPhone, iPad, and Android
If you use your mobile device to call in to a meeting and the call fails, you'll now see an option to call back into the meeting again.
Use an animated background in your meeting—iPhone, iPad, and Android
Add some pizzazz to your meeting and keep your audience's attention by uploading your own animated background image.
Webex App for iPhone and iPad supports MP4 and GIF files.
Webex App for Android supports MP4 files.
Join button in meetings list—Android
The Join button appears for a meeting shortly before it begins, tap and join right from the list on the meetings tab.
Share only a portion of your screen—VDI
If you want to share a specific area of your screen with meeting participants, select the area that you want to share. Participants only see the portion of the screen you selected, not your entire screen.
See more applications in the "Share content" window—VDI
When you have lots of applications open, sometimes it's difficult to find the one that you want to share in a meeting. Now, you can resize the Share content window to display more applications. You can display up to 5 columns of applications. The app remembers your changes for next time.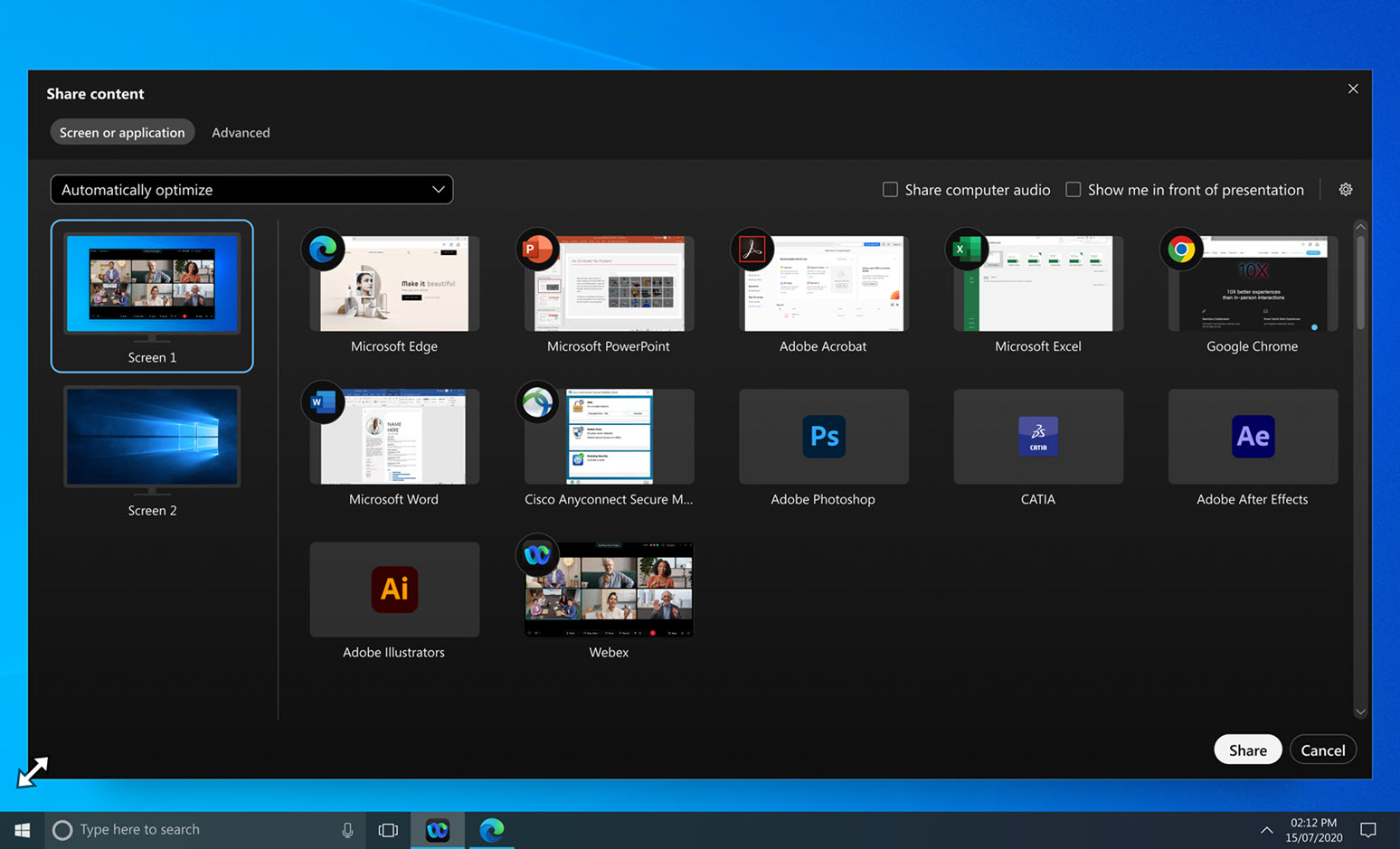 Participants external to your organization can start and schedule meetings in a space—Windows, Mac, iPhone, iPad, and Android
You asked and we listened. External participants in a space who are licensed to host meetings in their own organization, can now schedule meetings in the space and start meetings in the space, when they want to collaborate instantly.
This feature also applies to enhanced meetings associated with a space, which are available on our Video Mesh-ready meeting platform.
| | |
| --- | --- |
| | When the meeting ends, meeting content from external participants isn't shared automatically in the space. The meeting host must add the content to the space after the meeting. |
Was this article helpful?