What's new in Webex Instant Connect
Here's your first stop to see what's new with Webex Instant Connect. Stay up-to-date with the latest release info and feature updates for current and past versions.
June 2022
Use Webex devices for your consultations
Hosts signed in to Webex can transfer the consultation from their computer to their Webex device, once they start the meeting. This allows you to take advantage of the features offered in your Webex device.
| | |
| --- | --- |
| | PSTN calling and email invites are not available in the native app. |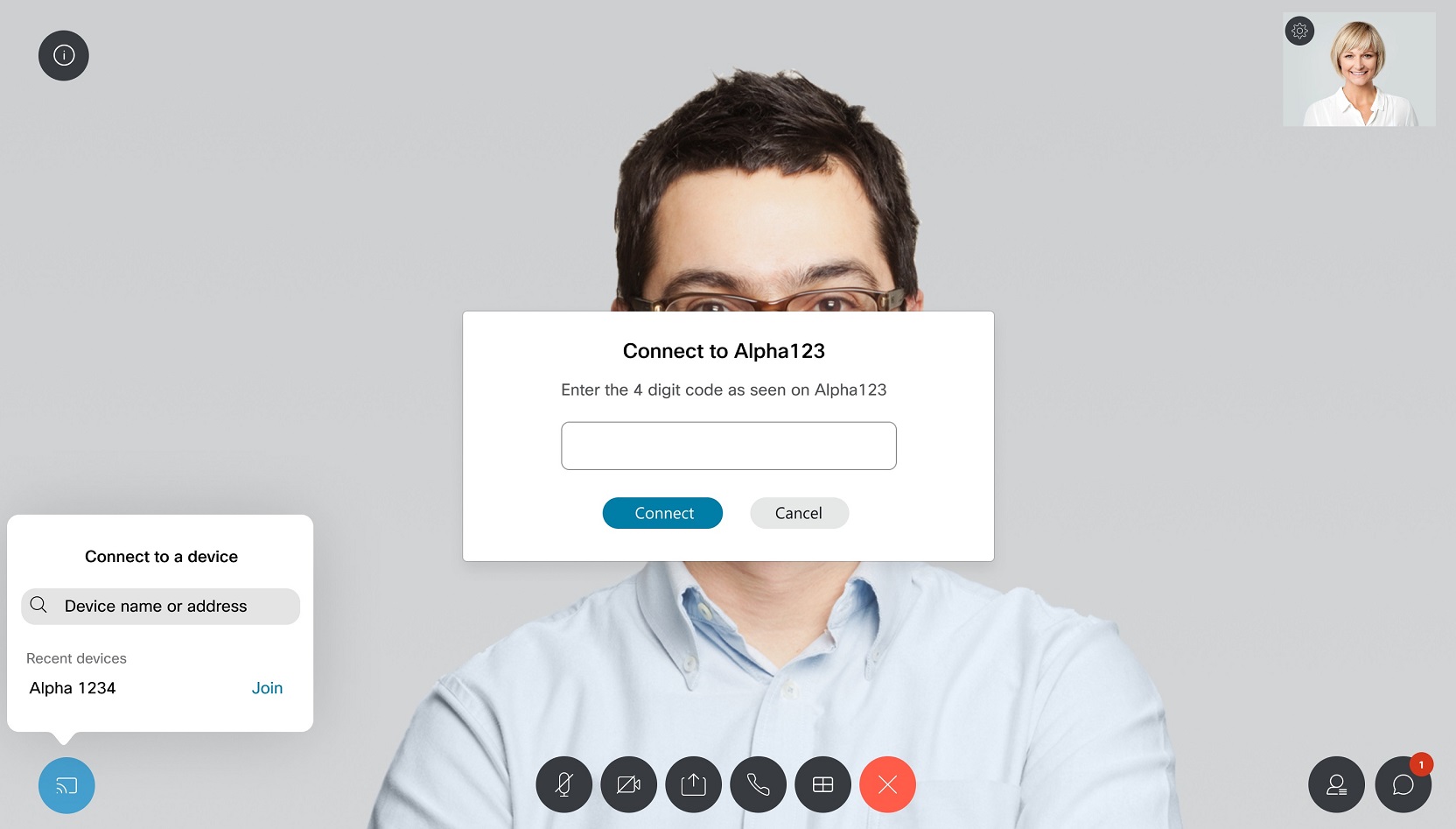 Improved device testing
Users can use a new webpage to test the following functions before joining, ensuring all participants are prepared for their consultation:
OS compatibility

Internet speed

Microphone

Speaker

Camera
Video no longer a requirement for hosts
Administrators can now choose to disable the video requirement for hosts. If allowed, hosts no longer need to provide camera access before starting a consultation.
Webex for Government support
Webex for Government users can now use Webex Instant Connect, which maintains the security and compliance required by government institutions. Patients and healthcare providers meet using highly secure, browser-based video consultations without having to download Webex App.
May 2022
Use Webex App to host Instant Connect consultations
Webex App users can now choose to launch consultations directly in Webex App, taking advantage of all the features on offer in the native app.
| | |
| --- | --- |
| | PSTN calling and email invites are not available in the native app. |
Webex Instant Connect card
Use the Webex Instant Connect card to create and start Webex Instant Connect meetings, all from within Webex App. When you start a meeting, the consultation lobby opens in your browser. You no longer need your own front-end interface to organize your consultations. You can invite participants using email, or text messages sent to their phone.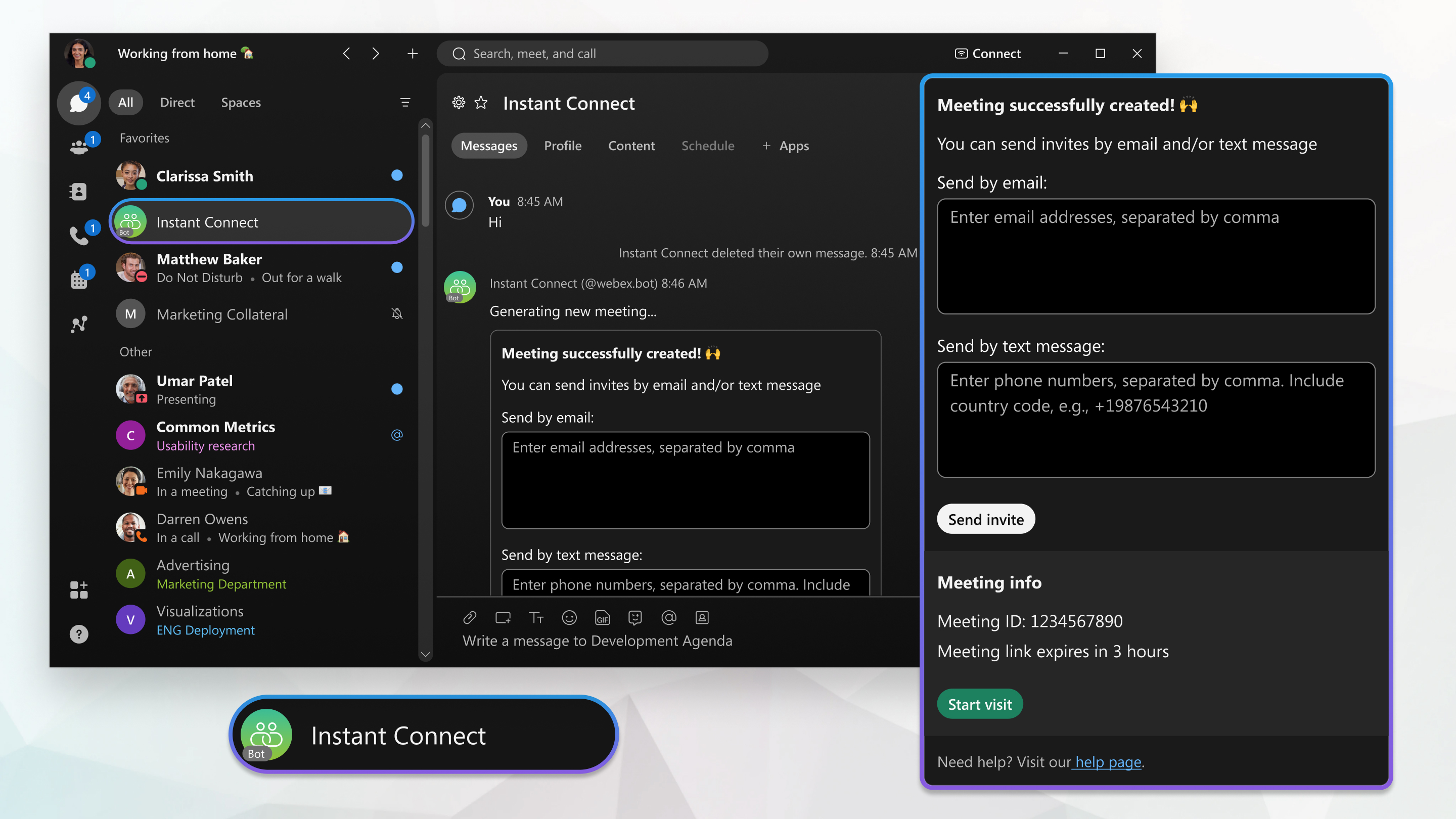 Post-meeting feedback
After a consultation ends, hosts can provide feedback on the audio and video quality. If the star rating is 2 or below, the technical support team receive an automated email with logs attached. This allows quicker resolution of any media quality issues.
Send email invites to participants
Hosts can now invite participants to a consultation using email.
April 2022
Feature customization
Administrators can control feature access and change the appearance of Webex Instant Connect for their users.
March 2022
Network connection warning message
If your network connection drops during a consultation, a warning message now appears to let you know about the problem. The message also includes suggested actions you can take to solve the issue.
Feature customization for Epic integrations
Administrators can now control feature access and change the appearance of Webex Instant Connect for their users. They can:
Update the organization name and logo

Change host and patient labels

Turn the chat feature on or off

Enable or disable PSTN dialing
February 2022
Remove participants
Using the participants panel, providers can now remove other participants from the consultation.
January 2022
Customer branding
You'll be able to add your organization's branding to Webex Instant Connect, by customizing what patients see while waiting in the lobby.
November 2021
Chat feature is generally available
The chat feature, which was made available to a limited number of customers in September, is now available for all customers.
October 2021
PSTN dial-out
Providers that are signed in can dial out to an external number to add another participant, an interpreter for example, to the consultation.
| | |
| --- | --- |
| | This feature is not enabled by default, contact Cisco if you're interested in using this feature. Users must also be signed in to Webex and have the capability to make PSTN calls to use this feature. |
Capture participant feedback
Participants can now submit their feedback during or after a consultation, which organizations can review and follow up on if needed. The user feedback rating and the user's name is included in the feedback e-mail.
Warning for unsupported browsers
A warning message now appears if you are using an unsupported browser, prompting you to use a supported version.
Updated notification message for poor connections
The warning message for users when they have a poor network connection has been improved.
Chat enhancements
We've made the following general enhancements to the chat feature:
Users are now alerted when a new message arrives, and the count of unread messages appears on the chat icon.

"Seen by" text now appears when either the host or participant has read a message.

Meeting controls are no longer hidden.
We've also made a number of enhancements to the chat feature on small screen devices, including:
A send button (>) is now available in the chat window.

The back navigation button and close button is now visible in landscape view.

The close ("X") button has been replaced with "<" to indicate that the user is navigating back to the meeting screen and is not ending the meeting.

Automatic scrolling to new messages.

Clicking return creates a new line, it does not send the message.
September 2021
Chat is now available on a limited basis
The chat feature is now available to a limited number of customers. Use the chat window during a consultation to send messages to other participants.
Organization name added to the welcome message
In the chat window, your organization name now appears before the welcome message.
Poor connection warning
Users are notified if they have a poor network connection.
Send SMS invites to participants
Hosts can invite participants to a consultation using SMS.
Additional languages
Users can now switch to their preferred language in Webex Instant Connect. Choose from English, Spanish, Japanese, or Portuguese.
Was this article helpful?