Claim users to your organization ("convert" users)
If people used your email domain when signing up for a personal Webex account, and you verify that you own that domain, then you can claim those users and manage them in your organization. Claimed users can choose if they want to keep their old account by using a different email address.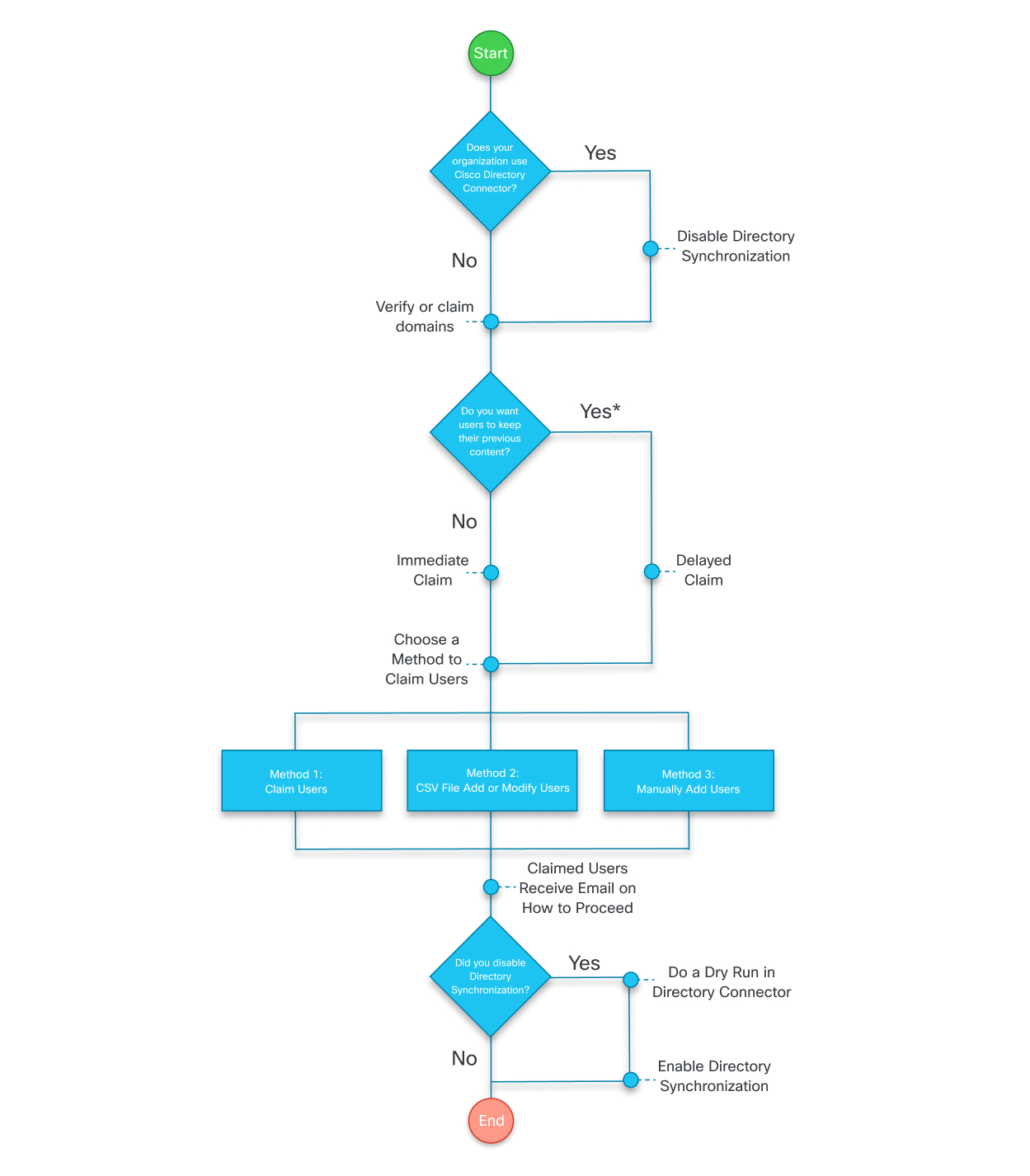 | | |
| --- | --- |
| | *See Step 4 for more information about the delayed claim option. |
Before you claim users, make sure you look through all of these steps first.
Disable directory synchronization in the Webex Directory Connector if your organization uses it to manage users. Users that you claim will get deleted if you don't do a dry run synchronization first.

Verify a domain in Control Hub. You must verify your domains so you can claim any users whose accounts use those domains in their email addresses.

You don't have to claim the domains to claim the users. See Manage your domains for a full explanation.

Decide if you want to allow users to migrate content from their old account to their new account. If you want to allow this, then you must enable the Allow users to bring their Webex conversations with them setting in the Organization Settings tab.

| | |
| --- | --- |
| | Users that are eligible to migrate their content are claimed through delayed claim when you enable this setting. |

Depending on if you allow users to migrate content, a user can be claimed through:

Immediate claim—User accounts are moved to your organization right away, and you can start managing and assigning licenses to them. They can decide what to do with their old user account the next time they sign in.

Delayed claim—Users have 14 days to decide if they want to migrate their Webex conversations from their old account to their new account. If they don't make a decision in 14 days, then their user accounts and Webex conversations are automatically moved to your organization. If you don't want users to migrate their Webex conversations with them, you can disable the delayed claim option.




Organizations created after May 5, 2020 won't be able to claim users with the delayed claim option. For more information, see New Webex Data Center for North American Region.

The delayed claim option isn't available for users in the consumer (free) organization. These users will lose their content if you claim them to your organization.

Choose one of the following methods to claim users with:

Method 1: Claim Users—Shows you a list of up to 250 users that you can claim outside your organization.

| | |
| --- | --- |
| | If there are more than 250 users to claim and you want to make changes to the list, you must export the CSV file and follow the steps in Method 2: Claim Users with a CSV File to continue with the claiming process. |

Method 2: CSV File Add or Modify Users—Exports a CSV file of all users outside your organization that you can claim. You can edit the CSV file to choose who you want to claim.

Method 3: Manually Add Users—Individually add up to 25 email addresses or names of the users you want to claim.
| | |
| --- | --- |
| | The claim user process is permanent. You won't be able to undo any claims that you've made. Make sure you're claiming the correct users before proceeding. |
Was this article helpful?