What's new in Control Hub
We want to make sure that you know about the major updates made available in Control Hub—updates to the interface, new functionality for Webex services, and ways to manage your organization and users.
We're sharing details about our planned feature releases that are coming out soon. Keep in mind that we could change release dates and the features themselves. Subscribe to this article so we can send you notifications when we change it.
December 2022
Retention improvements
We've improved the controls for retaining user-generated content in Webex spaces. You can now choose a different retention period for group spaces and for one-to-one spaces.
Audit log filter
We're adding a filter to the log of Admin Activities that you see in Control Hub. The new filter helps you narrow down your search to particular event categories.
See Review your administrator activity log in Control Hub.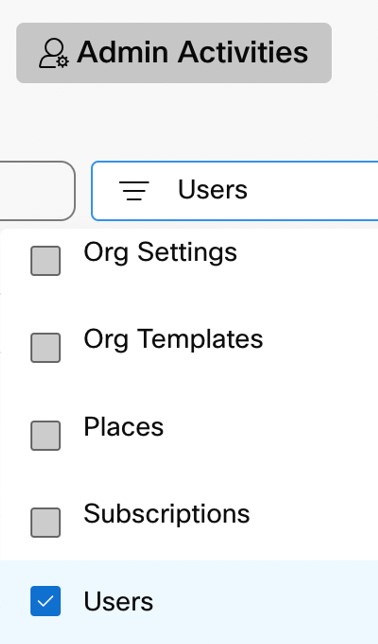 Duo MFA in Extended Security Pack
We're adding Duo to the Extended Security Pack to give you a wide range of multi-factor authentication options.
Security Health Insight
A new dashboard will be available that provides a quick overview of your organization's security posture. Security settings and tools are grouped to help you gain insights into your organization's security level. In-line context is also provided to show how the security goals and tasks affect your organization's overall security posture. This dashboard acts as a guide to improve your overall security posture.
Group Management
You can now create groups and add members in Control Hub without having to synchronize groups from Active Directory or Azure.
Permanently delete soft deleted Active Directory users
You can now immediately delete soft deleted Active Directory users in Control Hub pending in the 7 day deletion window. This allows you quickly remove users from your organization and free up licenses.
Software update controls are changing
We're updating the Webex App update frequency and deferral controls to align better with the Webex Meetings model. You can apply to be on the Slow channel for Webex App. This means that users get a more stable version that does not have the latest features.
We're giving you an override for specific users, so that some people can try the latest version before those features are available on the Slow channel. We're also making it possible for partner admins to manage these update controls on behalf of their customer organizations.
Site administration improvements in Control Hub
This feature makes your experience of managing your site consistent with how you manage other services in Control Hub. Read New look for site managment for more information.
We're also going to be logging administrative activities for Webex Meetings and Webinars in the Control Hub audit log.
Host account self-sign up
You can now allow host accounts to self-sign up for Control Hub managed sites. You can approve or deny self-sign up requests in the Requests tab under the Control Hub Alerts center.
Bring your own key
We're enabling you to take control of your own main encryption key. This feature gives you the responsibility for managing the main key lifecycle, and prevents Webex from being able to decrypt your content.
Controls for pairing Webex App to devices by ultrasound
We're introducing a setting in Control Hub to change whether the Webex App listens for ultrasound pairing requests. Until now, users could control whether the app listened for ultrasound pairing requests from nearby devices.
If you are concerned about Webex App using your users' microphones for this purpose, you can now disable it on the Organization Settings page in Control Hub.
January 2023
Locations in Control Hub
Locations allow you to organize users and rooms based on physical location. Customers can configure both calling and room management functions into the same location.
Integration management improvements
We're revamping the integration management page in Control Hub. We're listing all thrird-party integrations you have, as well as accurately reporting how many people in your organization are using them.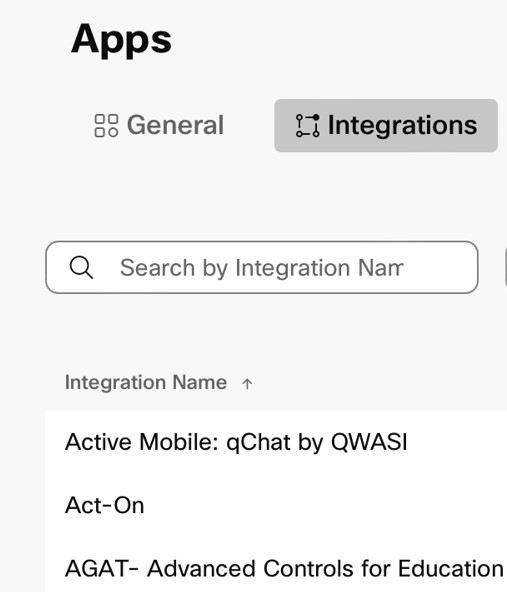 Support for alternate email addresses
Control Hub and Directory Connector now support alternate email addresses for users. When configured, users can sign in using their primary email address or alternate email address. This can be helpful when a userPrincipalName or eduPersonPrincipalName is used for signing in, but a user's email address is used to manage their calendar.
Multiple Identity Provider supported user authentication
We're giving you the option to configure multiple Identity Providers (IdP) in your organization for user authentication. You can create a routing rule for a domain or for a user group (this can be beneficial for mergers and acquisitions for education, enterprise, and government customers).
This feature will support both SAML and Open ID Connect based IdPs and is only available for administrators with a Pro Pack License.
SSO certificate expiry in Webex Administration
Data retention changes coming in 2023
Was this article helpful?