What's new in Control Hub
We want to make sure that you know about the major updates made available in Control Hub—updates to the interface, new functionality for Webex services, and ways to manage your organization and users.
September 2023
Bring your own AWS KMS key
You can now manage your own main key in the AWS Key Management Service (KMS). You provide Webex with your AWS KMS key ID instead of your main key. This means you authorize Webex to encrypt and decrypt using your AWS KMS key through the AWS console. This feature gives you the responsibility for managing the main key lifecycle, and prevents Webex from being able to decrypt your content.
For more information, see Manage your own customer main key.
Try webinars free for 30 days
Full administrators can start and manage a free 30-day trial of Webex Webinars for their users. Users can conduct unlimited webinars for up to 5000 participants during the free trial.
July 2023
Control Hub as a Coach
If you're a new Webex customer, Control Hub can guide you through setting up your organization's environment, checking adoption status and trends, and making your environment more secure.
For more information, see Set up your organization in Control Hub.
Control your users' experience using collaboration restrictions in Control Hub
You now have the ability to easily set policies on the Video Mesh-ready meeting platform. This allows you to control your users' experience when joining external or internal meetings at the organization, group, and user levels.
You can set up the following collaboration restrictions for your users:
Join policies to block internal users from joining external meetings and block external users from joining internal meetings. You can apply restrictions to all sites or specific sites. You can also apply internal settings to all meetings or only to personal room meetings.

In-meeting restrictions for compliance features such as Desktop Sharing, App Sharing, Camera Sharing, Remote Desktop Control, Cloud Recording, Local Recording, Webex Assistant, Closed Captions, Whiteboard, Annotation, File Share, VoIP, Telephony, Chat, File Transfer, Video (HQV(360P) and HDV(720P)), Participant List, and Take Presenter.

Registry keys or tokens on your organization's devices to apply meeting policies and prevent BYOD (bring your own device).

Enforcement policies to enforce sign-in and virtual backgrounds.
For more information, see Configure settings templates and Collaboration restrictions for Webex Meetings in Control Hub.
May 2023
Multiple Identity Providers for user authentication
We're giving you the option to configure multiple Identity Providers (IdP) in your organization for user authentication. You can create a routing rule for a domain or for a user group. This option can help for mergers and acquisitions, or for distributed organizations in education and government organizations.
This feature supports SAML, Open ID Connect, and Webex Identity based IdPs and is only available for organizations with Webex Extended Security Pack.
Predefined settings templates for Education
If you chose Education as your business vertical, you can use predefined templates with custom settings for students or teachers.
Control Hub as a Coach
If you're a new Webex customer, Control Hub can guide you in setting up your environment so your users get the best experience. Once the environment is set up, you can see how the adoption of Webex is going, as well as being guided through making your environment secure.
Save a transcript without recording a meeting
You can allow meeting participants to save a transcript during a meeting without recording the meeting.
Settings override in Control Hub
Administrators can enable meeting settings override and use existing settings templates to enforce meeting policies for specific hosts. This means that when the host initiates a meeting, all participants follow the host's policy rather than their own. This feature only applies to internal meetings.
For more information, see Configure settings templates and Collaboration restrictions for Webex Meetings in Control Hub.
Bring your own key
We're enabling you to manage your own customer main key. This feature gives you the responsibility for managing the main key lifecycle, and prevents Webex from being able to decrypt your content.
April 2023
Add an audio watermark for security
You can add a watermark to meeting recordings with the Webex Meetings Pro-End to End Encryption_VOIPOnly session type, which allows you to identify who shared the recording externally.
March 2023
User sign-in and sign-out logs
Administrators can get user sign-in and sign-out logs across all Webex applications. These logs are available to full admins through APIs.
Update controls - Windows and Mac
The desktop app update controls for Webex App has moved from Messaging to Organization settings.
Administrators can now choose from two update deployment models in Control Hub:
Latest cadence — default option

Slow cadence — 4 month release cycle
You can then effectively control update deployments across your organization.
Administrators can also choose to defer updates for up to 2 weeks, to choose a specific date and time for the update across their organization.
Updated UI in Partner Hub
We've updated the Customers and Customer details pages. We've also added filters and status alerts so you can easily follow up on the customers that need immediate attention.
Enhanced integration between MS365 groups and teams in Webex
We've made it possible to use this feature if you are synchronizing users from your on-premises Active Directory. Previously you could only do it if you synced users directly from Azure AD.
This is a benefit to your organization if you are using both Azure AD and AD on-prem, especially if you already use Directory Connector to synchronize users to Webex from AD.
Read how to Integrate teams in Webex with groups in Microsoft 365 and how your Webex App users can Connect a Microsoft 365 group to a team.
February 2023
Locations in Control Hub
Locations allow you to organize users and rooms based on physical location. Customers can configure both calling and room management functions into the same location. For more information, see Locations in Control Hub.
New content admin role
Administrators will be able to select a new content admin role for users. A content admin extends the abilities of a site admin. In addition to making site configurations, they can access meeting artifact data, such as recordings or transcripts. Users can be designated as site admins and content admins for specific sites. This is useful when an organization owns several sites and the admin responsibilities must be partitioned.
For more information, see Assign organization account roles in Control Hub.
Enforce virtual backgrounds
You can require that users have a virtual background in order to turn their video on. For more information, see the Manage general templates section of Configure settings templates.
Hybrid Calendar can now access only Google Calendar rooms
Customers who use Webex Room devices can now authorize Hybrid Calendar to access Google Calendar rooms only. This ensures that Webex has access to only room calendars and not user calendars. For more information, see the Deployment Guide for Hybrid Calendar.
Audit log filter
We've added a filter to the log of Admin Activities that you see in Control Hub. The new filter helps you narrow down your search to particular event categories.
For more information, see Review your administrator activity log in Control Hub.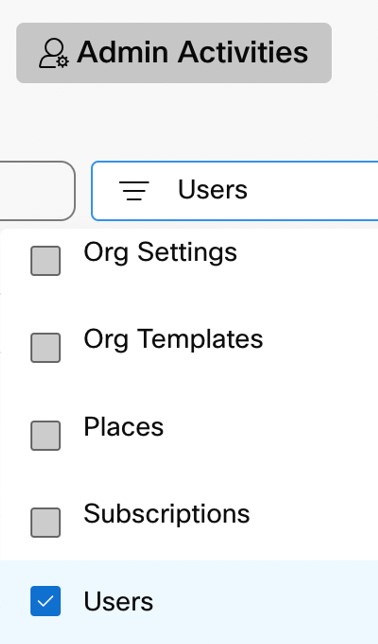 Host account self-sign up
You can now allow host accounts to self-sign up for Control Hub-managed sites. You can approve or deny self-sign up requests in the Requests tab under the Control Hub Alerts center.
We're sharing details about our planned feature releases that are coming out soon. Keep in mind that we could change release dates and the features themselves. Subscribe to this article so we can send you notifications when we change it.
Some of the following features are available in Beta if you've accepted the Cisco Beta Participation Agreement and participate in the Beta program.
December 2023
Separate controls for blocking file previews and downloads
We're giving you the option to independently block file previews and downloads in your organization's spaces.
January 2024
User sign-in and sign-out activity page
We're giving you better visibility of user sign-in and sign-out activity, on the Security & Compliance page in Control Hub. When users sign in to Webex App or Control Hub, we show that on the new Sign-in Activities page. You can see up to 12 months of sign-in activity. You need Pro Pack to track sign-in and sign-out activity.
Block internal communications improvements
Block internal communications is the feature you need to create ethical walls in your organization. We're giving you the option to create a deny list as well as an allow list, to improve the control over which groups may or may not use Webex to chat with each other.
Deprecation: Integration between Calendar Service and TelePresence Management Suite (TMS)
January, 2024
Cisco has announced the End-of-Sale and End-of-Life dates for TMS.
We are also deprecating the integration between the cloud-based Calendar Service and TMS. The benefit of this integration was to simplify meeting scheduling between Webex and your TMS-managed on-premises conferencing resources.
Changes to default file format in Reports API
January, 2024
Currently, the CSV file format is the default when you download Control Hub reports with the Reports API. Starting December 31, 2023, CSV files will be zipped before they'll be available to download. By January 31, 2024, we'll no longer support unzipped CSV file downloads.
You may start downloading reports as a ZIP file format prior to January 31, 2024 by setting zipEnable=true to prepare for this change. For example:
https://reportdownload-a.webex.com/api?reportId=Y2lzY29zcGFyazovL3VzL1JFUE9SVC82YWZiZTg0MTY4OTU0MTA0OThiYTcyZGM4N2FlODE2Yg&zipEnable=true
You can also use zipEnable=false to download files in the CSV file format until January 31, 2024. After January 31, 2024, the zipEnable=false flag will be ignored and all reports will be downloaded in the ZIP file format only.
Was this article helpful?