What's new in Control Hub
We want to make sure that you know about the major updates made available in Control Hub—updates to the interface, new functionality for Webex services, and ways to manage your organization and users.
Hybrid Calendar can now access only Google Calendar rooms
Customers who use Webex Room devices can now authorize Hybrid Calendar to access Google Calendar rooms only. This ensures that Webex has access to only room calendars and not user calendars. For more information, see the Deployment Guide for Hybrid Calendar.
Audit log filter
We've added a filter to the log of Admin Activities that you see in Control Hub. The new filter helps you narrow down your search to particular event categories.
For more information, see Review your administrator activity log in Control Hub.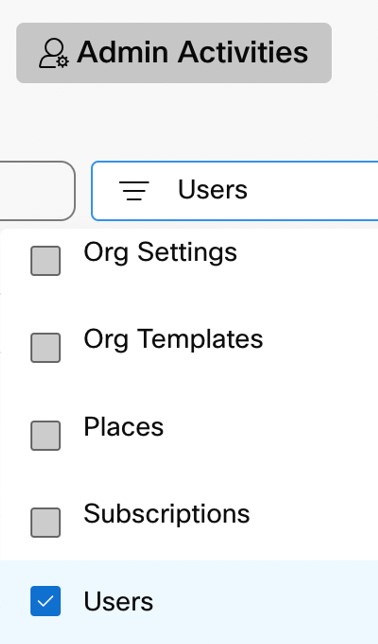 Host account self-sign up
You can now allow host accounts to self-sign up for Control Hub-managed sites. You can approve or deny self-sign up requests in the Requests tab under the Control Hub Alerts center.
We're sharing details about our planned feature releases that are coming out soon. Keep in mind that we could change release dates and the features themselves. Subscribe to this article so we can send you notifications when we change it.
February 2023
Locations in Control Hub
Locations allow you to organize users and rooms based on physical location. Customers can configure both calling and room management functions into the same location.
Save or clear in-meeting chat after a meeting
If in-meeting chat is turned on, you can choose whether the chat is automatically saved or cleared after the meeting.
Convert private spaces to public
Admins can convert unmoderated private spaces to public. Those spaces will be searchable, and give your colleagues more opportunities to join in the conversations that matter to everyone in your organization.
March 2023
Support for alternate email addresses
Control Hub and Directory Connector now support alternate email addresses for users. When configured, users can sign in using their primary email address or alternate email address. This can be helpful when a userPrincipalName or eduPersonPrincipalName is used for signing in, but a user's email address is used to manage their calendar.
Multiple Identity Provider supported user authentication
We're giving you the option to configure multiple Identity Providers (IdP) in your organization for user authentication. You can create a routing rule for a domain or for a user group (this can be beneficial for mergers and acquisitions for education, enterprise, and government customers).
This feature will support both SAML and Open ID Connect based IdPs and is only available for administrators with a Pro Pack License.
Automatic license assignment changes
February, 2023
We're changing the way automatic license assignment works. At present, you can assign licenses to the whole organization, or to groups of users.
We're changing the system behavior to make the license assignments additive. That is, you can assign licenses to the whole organization and to groups of users.
We're also updating the Control Hub interface and the related documentation. You can subscribe to Set up automatic license assignments in Control Hub to be notified when this change is available.
Data retention changes coming in 2023
Was this article helpful?